Our In-Store Design Service
Transform your vision into reality.
Reserve your complimentary design consultation today.
Monday to Friday
In store consult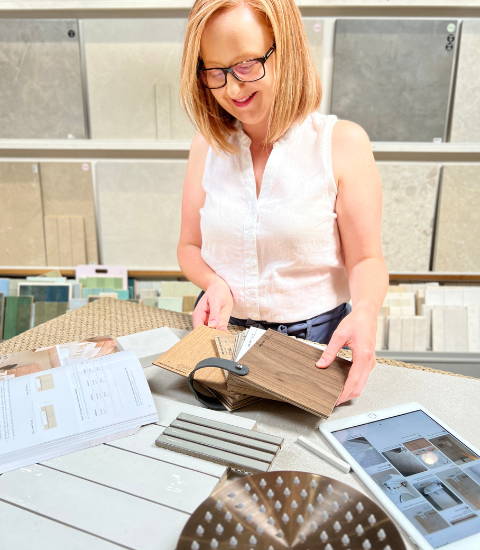 Our Eltham showroom is bursting at the seams with tiles, bathware, tapware and flooring, and much much more. No matter the budget or style, our passionate team of designers will make your vision a reality. 
We have the most awesome design consultants, each with their unique personality and ability to help you on your journey.

 

Our job is to be the conduit between product and design, and your goals and expecatations. Let us take care of the hard part, we know you'll have an an awesome experience.

 

Our FREE 90 Minute Instore Consultation includes:

- A guided tour of our extensive product range.
- Listen to your needs and tailor a design brief.


- Involve you in the product specification process.

- Prepare a quote tailored to your budget

.
Benefit of our 1:1 Consultation
Our clients are normally pleasantly surprised that they can get all their questions answered during a consultation and come away from it feeling enlightened, energized, confident in the next steps to take, and full of new ideas for their space.
Our Experts design all day every day, so they are up to speed with the latest and most innovative products and ideas. Whether it be your bathroom, kitchen, living, or outdoor space, our designers can get into the zone of a new space very quickly and are naturally very efficient with their advice.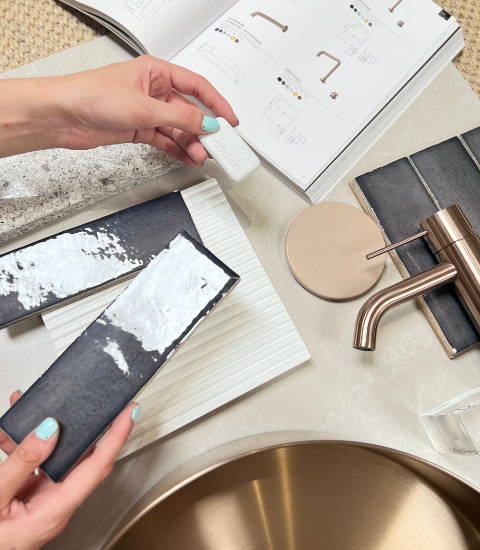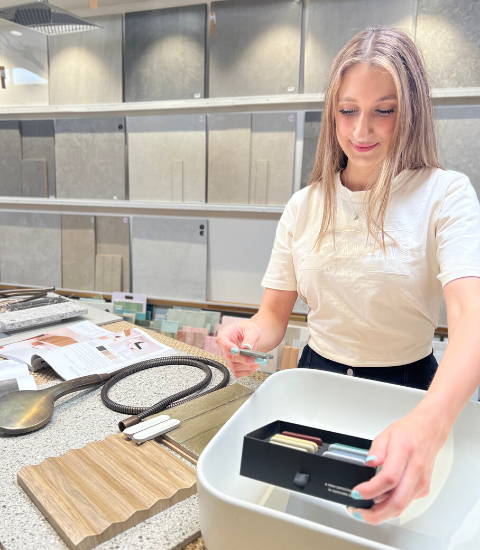 Yeomans really is the One-Stop-Destination for your interior and exterior product needs.
 

Whether its tiles or timber flooring, stone or porcelain panels, taps, toilets, baths and vanities, Yeomans has it all.

 

We cater for all budgets and tastes, and our aim is to create a space that ticks all the boxes and is as personal as you and your family.
We are constantly on the look out for the latest and value for money products, and dont be suprised to find new and exciting ranges on offer as we build Yeomans into the choice for all your home needs.
Yeomans is your one stop shop for bathroom renovations. I went there to look at tiles for our recent bathroom/kitchen renovations and ended up buying tiles, vanities, taps and accessories! Claire's service was amazing. She was so helpful in helping me choose everything I needed. The quality of the goods was impeccable and the range is outstanding. Thanks so much.
- Michele
Recently renovating shower and bathroom space at home. I can not speak more highly of the Yeomans service and expertise. In particular the work of Joel, who went above and beyond to take me through a range of different options. His suggestion for the tiles was terrific, absolutely love them! Greatly appreciated Joel and Yeomans working around my delivery needs also. Highly recommend, great prices and fantastic customer service.
- Evan
Quite impressive little shop.
Plenty of bathroom settings to look at and lots of trendy looking tiles. Worth a look
-CT
We did a kitchen Reno recently and got THE best help picking out our tiles from Yeomans.
Mel helped with the big picks, Aaron and Claire helped to fine tune everything.
We are super happy with the service we got.
-Nu & Menaka
Are you renovating 1 or 2 bathrooms? maybe you're building or renovating a duplex.
Then this is the appointment for you!
The quickest and easiest way to book your free 90 minute appointment is to call our Eltham showroom on
(03) 9439 2211

We look forward to speaking with you.