Stone Shower Bases
Domus Living shower floors are the new must-have bathroom element: an exclusive design combined with high functionality creating the ultimate bathroom feature.
Read More
Selecting your Shower Base from Yeomans Bagno & Ceramiche
The modern trend in bathrooms is to have a separate shower as well as a bath so you can have the choice of which to use. Increasingly, people are installing wet rooms and that's partly in response to changing lifestyles and the availability of new bases and other fittings that make that possible and practical.
Whether installing a new bathroom or refurbishing an existing one, you now have plenty of choices to create the style you want. Those choices extend from the bathroom tiles, to the shower base and there are many types to choose from at Yeomans Bagno & Ceramiche.
Why Stone Shower Bases are the Best Choice
Over the years, shower bases have been made from a variety of materials. Ceramic bases are high quality but can be easily chipped and are very heavy so are generally restricted to commercial use. Fibreglass is relatively cheap but can be brittle and is a porous substance that requires waterproof paint to prevent leaks, although this can erode and give a dull appearance.
Acrylic shower bases are extremely common, their popularity largely being due to their relative cheapness, lightness and flexibility, although the latter can make them prone to breakage. This type is not often used in high end bathrooms, however, which is where a stone shower base has a definite edge and is usually the preferred choice.
These bases are produced by combining natural ground stone materials with a resin compound that binds the stone together. This creates a base that is much lighter and easier to install than a solid stone product but is more sturdy and long-lasting than an acrylic base.
The resulting solid surface shower base is slim enough for a low profile product that can be installed flush with the floor or with a minimal step up, which is a common requirement for modern wet rooms. Despite its low profile, the base is extremely robust and is resistant to scratches and chips.
Although stone shower bases cost more than the acrylic equivalents, they repay that extra cost in their sheer elegance combined with great practicality. Their low profile design is made possible by modern waste technology that is able to remove waste water more quickly than earlier models so there's no chance of overflows causing problems.
Choose the Ideal Stone Shower Base
We offer a wide range of stone shower bases in a variety of sizes and colours. So, you're bound to find one that fits in with your planned or existing colour scheme.
All our bases come in a variety of sizes so you can choose one that gives you plenty of room to move around or that fits into an available space. They also come complete with a stainless-steel waste that's coloured the same as the base so it blends in perfectly.
Every base is completely durable and resistant to scratches and stains. The one-piece construction means that it's leak proof and that the colour doesn't vary throughout the unit.
For a combination of elegance, practicality and durability that's hard to beat, a solid surface shower base is the only real answer and will give you a bathroom you can be proud of.
If you do need any further information about our stone shower bases or our fantastic range of tiles in Melbourne, give us a call on 03 9439 221, email us at enquiries@yeomansbc.com.au or visit our showroom in Eltham and chat to one of our team.
Read Less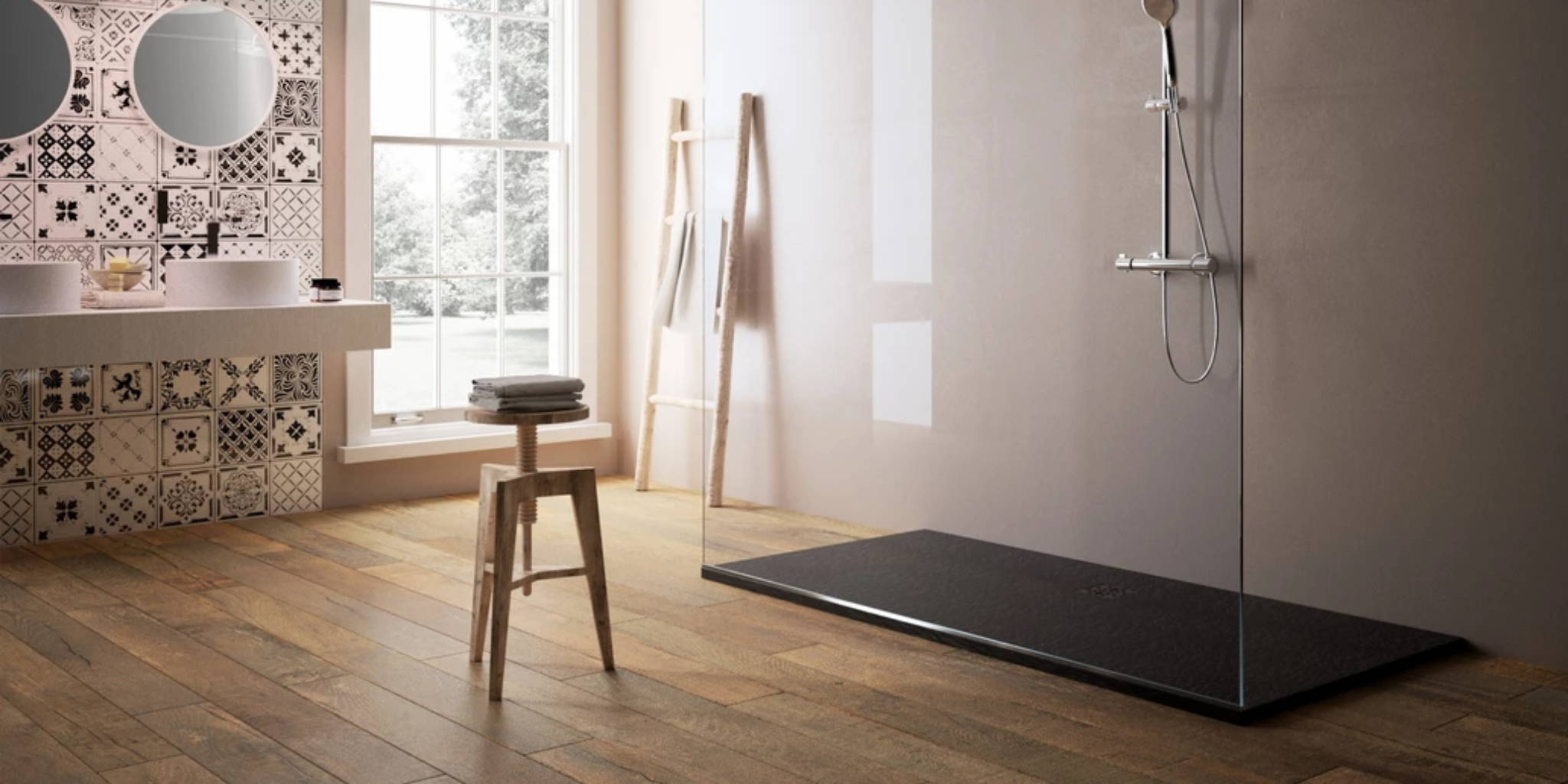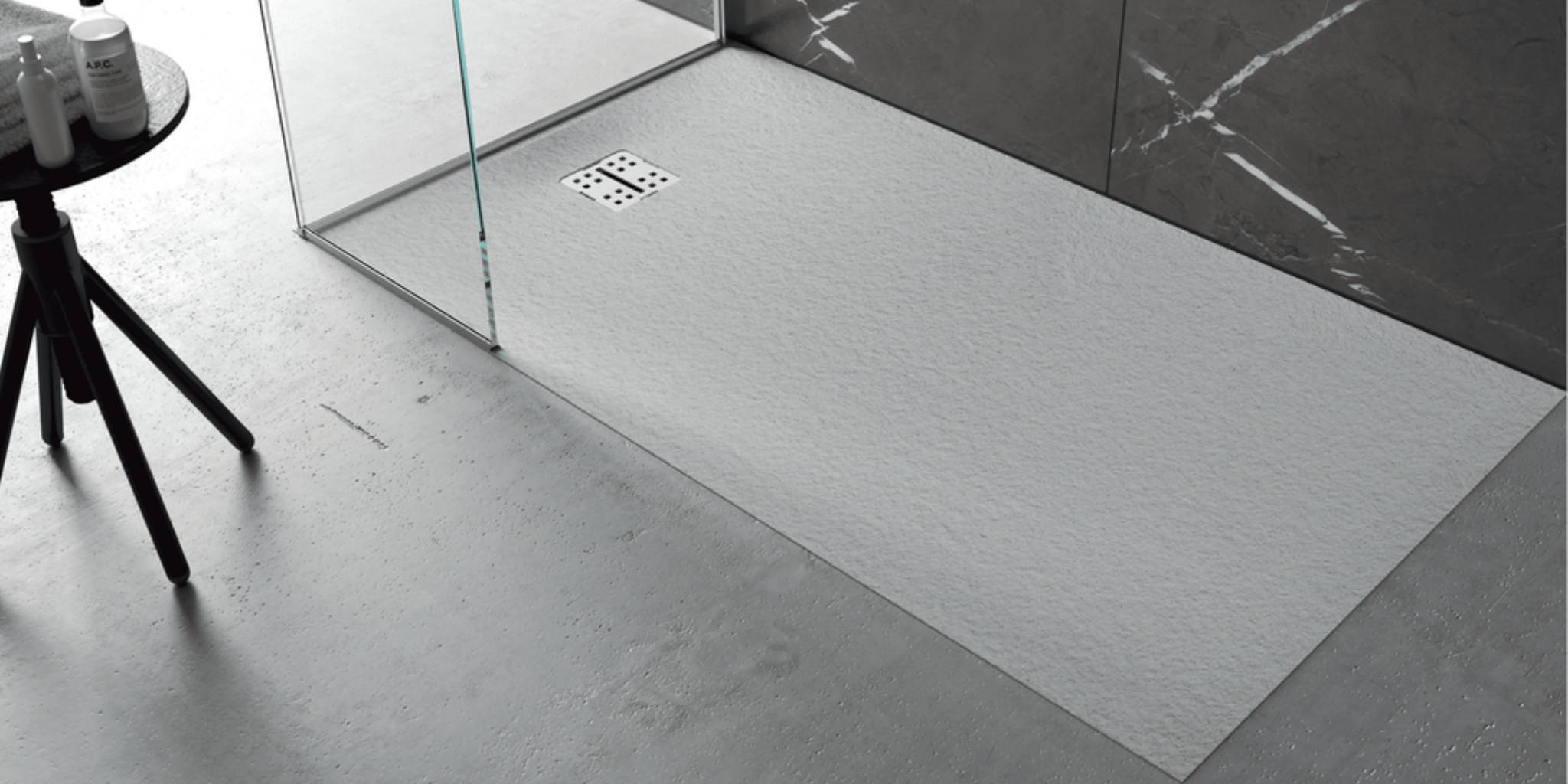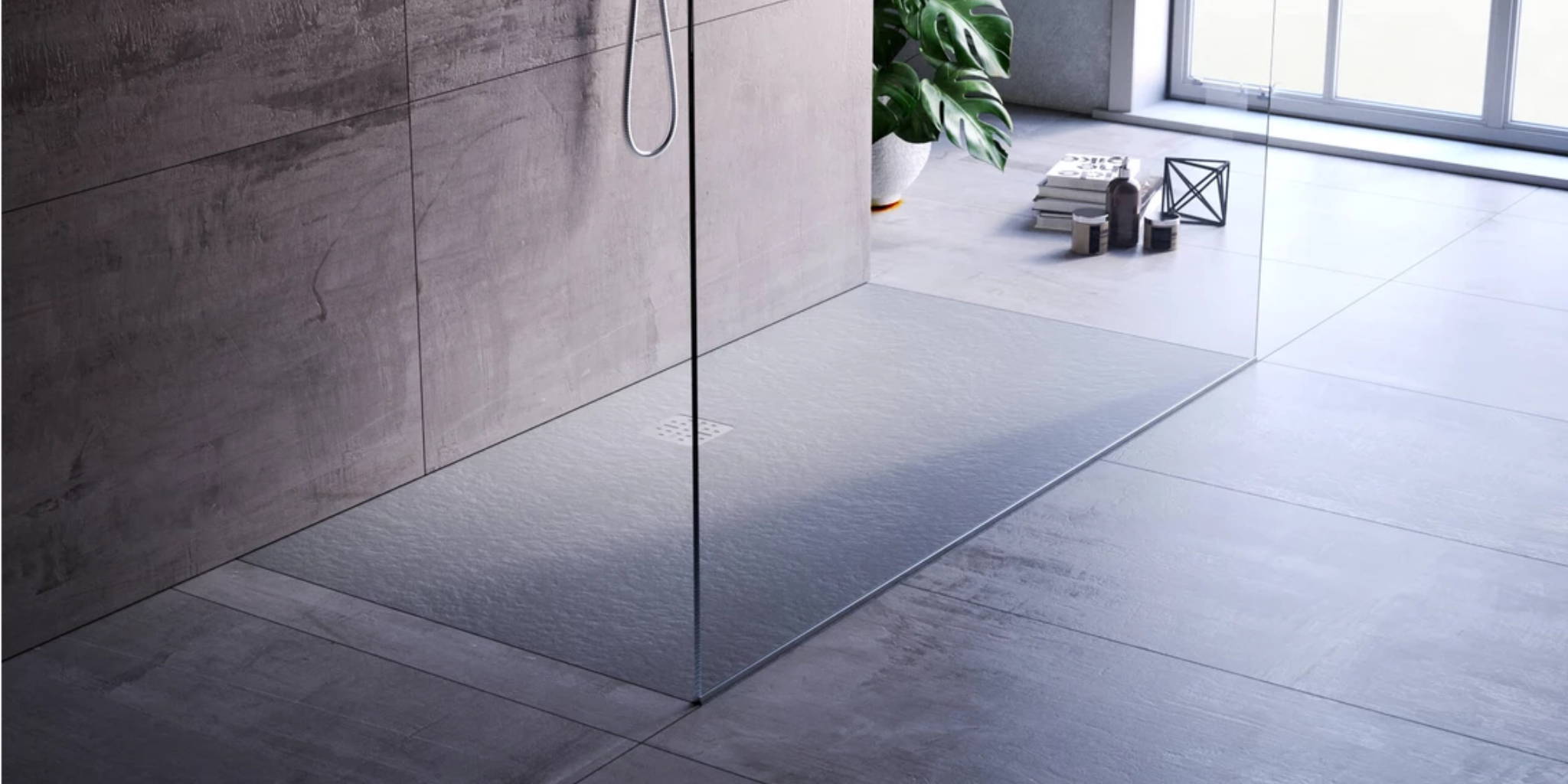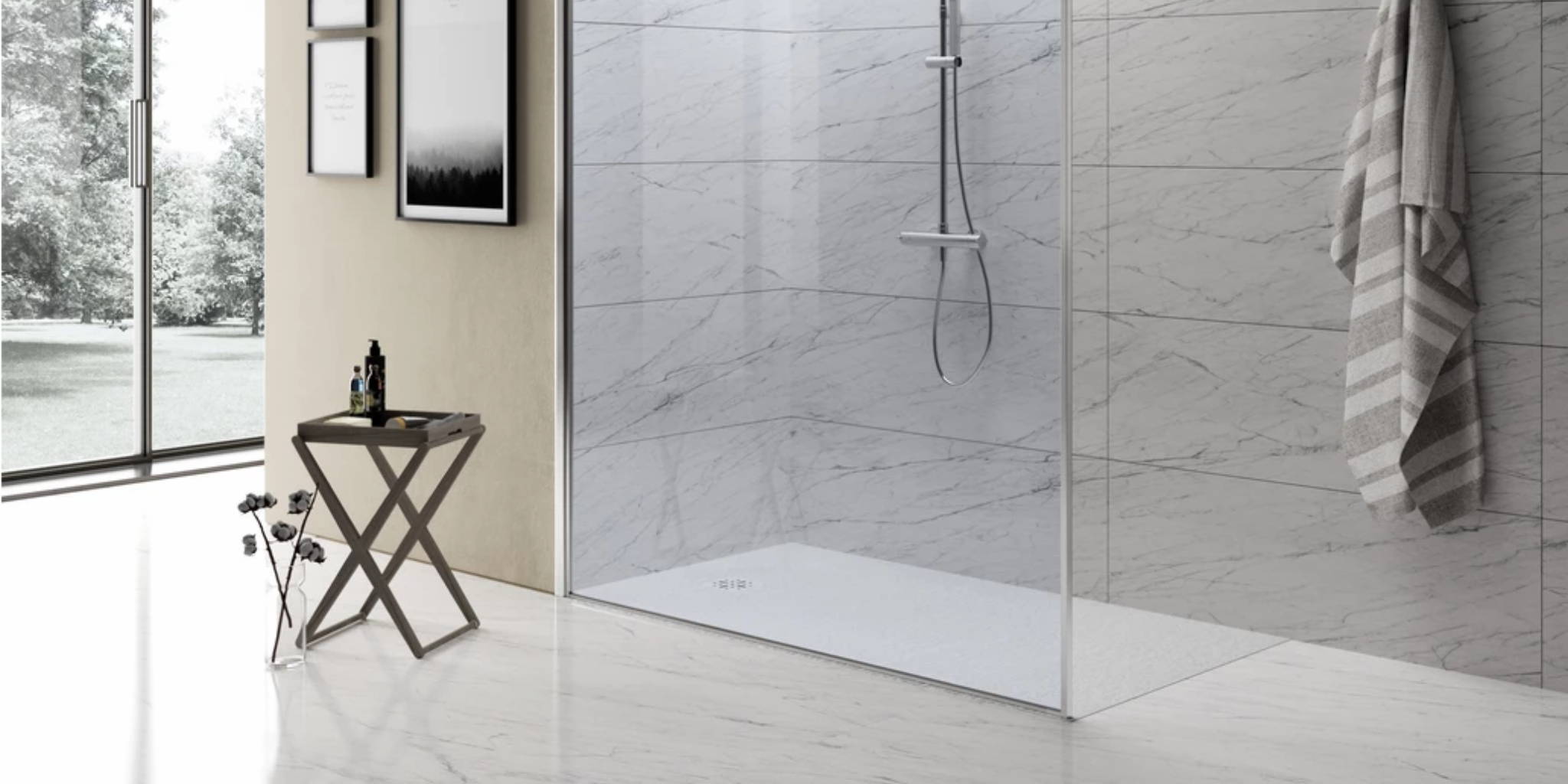 Made in Italy
2 models ; Pietra and Cemento
4 colours ; Bianco, Cappucino, Grigio, Nero
Installation above any floor; flush floor or with a minimal step
Anti slip, easy to clean surface
Stain and scratch resistant
Inbuilt fall ; engineered so the entire floor area drains water to the waste
Grout free shower area
These beautiful bases are made with Domustone™ - a special material created with a blend of natural minerals and resins. This extremely hard material allows Domus Living to create ultra slim shower trays, which can also be installed flush with the floor.
'Pietra' means stone. The pattern replicates a stone slab without the wear and tear that comes along with natural stone products. The surface is non-porous and has a extremely smooth, non-slip finish. Pietra bases come with an included stainless steel waste coloured to match your base colour.
The Cemento finish is characterised by an incredibly smooth, trowelled concrete look pattern. This shower floor is designed to enhance the shower area of your bathroom by creating a feature. Ideal for modern, industrial or minimalist environments.